---
PDF/A in a Nutshell 2.0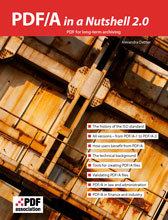 PDF/A is an ISO standard for using the PDF format for long-term archiving of digital documents.
Since its publication in 2005, PDF/A has become the format of choice for archiving digital documents in a wide range of industries and applications. "
PDF/A in a Nutshell 2.0 provides a comprehensive introduction to the material and shows off the latest developments available with PDF/A-2 and PDF/A-3. The brochure provides information about PDF/A tools and strategies for creating and validating PDF/A files. Examples from around the world demonstrate how users in the areas of finance, administration, academia and law can benefit from PDF/A.