SOLitrack – Enterprise Job Tracking and Visibility Platform
Produced by Solimar Systems Inc.
TRACK JOBS FROM RECEIPT TO DELIVERY
Organizations routinely find it challenging to track jobs through their production workflow, resulting in jobs being lost, forgotten, or misprinted. SOLitrack provides the needed visibility to track these jobs with a centralized solution for management, reporting, and event notification. SOLitrack records processing activities into a database enabling workflow progression to be viewed live or returned as reports. SOLitrack is also a secure job distribution solution to manage when, where, and how a job processes.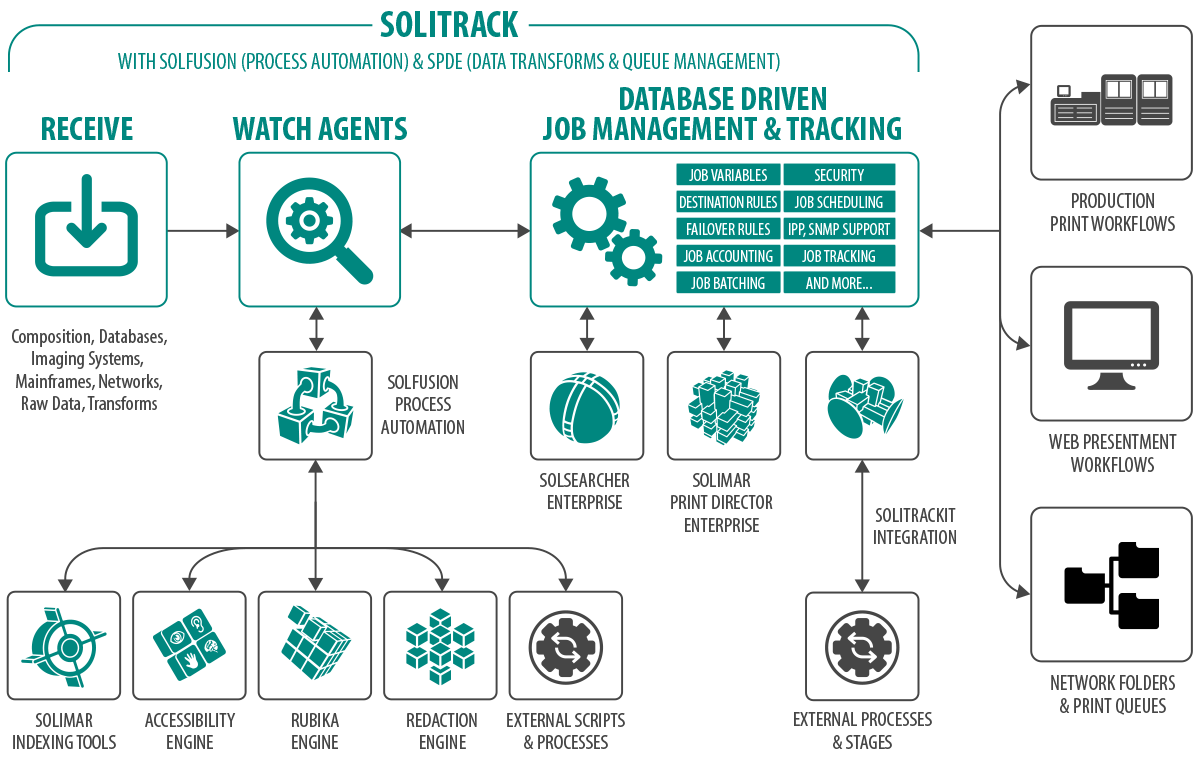 JOB CONTROL INFO ACROSS WORKFLOW
SOLitrack is a database-driven output management system designed to manage and track jobs through production workflows from onboarding to final delivery. Although it can run independently, SOLitrack is also an integral part of Solimar's Chemistry platform of solutions that provide print conversions, job management, connectivity, document enhancement, online presentment, and archiving along with many ways to reduce output delivery costs and gain efficiencies in production workflows.
SOLITRACK KEY FEATURES & BENEFIT
USER INTERFACE
A feature-rich operator GUI makes administration and deployment of SOLitrack seamless to users. From this interface, an operator can filter, select, hold, view, release and cancel jobs, set job attributes and destinations, and track their results.
SECURE ACCESS
SOLitrack provides granular security to control user activity and access rights. This security enables strict control over managing sensitive documents and activities related to production.
WORKFLOW TRACKING
User-defined activities are grouped into workflows to track jobs through the system. Checkpoints are used to show a job's progression through a workflow and simplify job tracking by emphasizing only the most important tasks.
CUSTOM REPORTING
SOLitrack's robust database platform gives users the flexibility to create custom reports such as device and operator productivity, billing for printer usage, and job tracking.
JDF/JMF INTEGRATION
Support for both the Job Description and Job Messaging Formats provides real-time job and printer status, logs job processing information, and facilitates communication with non-IPDS printers.
LIVE PRINTER STATUS – IPP
With IPP and SNMP printing protocol support, SOLitrack maintains an active dialogue with the attached devices for connectivity and to track job completion.
JOB BATCHING
An integrated batching mechanism optimizes, combines and sorts jobs with similar characteristics into larger batch jobs to facilitate householding, commingling, tracking, managing SLAs, and automation of manual processes.
JOB SCHEDULING
Improves production efficiencies by automating when tasks are run based on user-defined schedules. Jobs can be scheduled on a one time, daily, weekly, or monthly basis, and can repeat at specific intervals or expire on a given date.
JOB REDIRECTION
Based on rules and device conditions, SOLitrack automatically redirects print jobs to other devices. This load-balancing and failover capability improves efficiencies by redirecting print jobs away from devices that are offline or have a backlog of work.
PAGE COUNTING
SOLitrack can count the pages of incoming content, recover page counts from target devices, and return reports for billing, and tracking activities of devices and operators.
JOB ATTRIBUTE ASSIGNMENT
Incoming print file type (AFPDS, PCL, PDF, PostScript) is automatically detected, and additional job attributes can be conditionally assigned or modified based on the file's name and metadata.
SOLUTION INTEGRATION
SOLitrack directly connects to Solimar's suite of enterprise solutions for print transforms, automated re-engineering, redaction, Accessibility, archiving, and eDelivery.
MANAGE WORKFLOW QUICKLY AND EASILY
SOLitrack provides print operators and administrators with a powerful tool to manage and monitor printer activity and processing status of print files. This centralized view allows users to quickly locate information about the jobs processed by SOLitrack, as well as files printed outside of its control. SOLitrack's intuitive interface, robust job filtering, and drag & drop control make locating, scheduling, or releasing jobs into production quick and easy. SOLitrack also provides customizable reporting on workflow activities that were tracked and logged in its related MS SQL database.
SOLitrack functionality can be accessed and integrated into your current workflow in a number of ways:
SOLITRACK
SOLitrack is a Windows®-based solution with a feature-rich user/operator interface. This application is typically used to manage and track jobs through production workflows. Jobs entering the system can be scheduled and combined into batches. Operators can then release these jobs into production. SOLitrack's administrative tools are used to configure workflows, devices, users, security, and database storage. System alerts and notifications, as well as custom reports, can be easily defined to keep users up to date on all production activities.
SOLITRACK MOBILE
SOLitrack features a responsive mobile web interface that receives and displays information contained in SOLitrack including tracking data, job and device status, workflow progression, custom reporting, and alerts and notifications. This information can be displayed on any of your mobile devices and provides a dashboard view of all your production activities.
SOLITRACK API
SOLitrack features a full API for integrating functionality into external processes or custom workflows. Data returned can populate external dashboards with tracking information, alerts, notifications, and reporting.
SOLITRACKIT
SOLitrackIt is a command-line utility that provides an interface with SOLitrack to enable organizations to track jobs as they process in external applications or internally-developed processes.

Product Type
---
API / SDK
Windows
Command-line
Workflow management
Utility
Features
---
Print
Product sectors
---
Collaboration
Output
Printing
Viewer
Workflow management
Publishing
Services & consulting
WordPress Cookie Notice by Real Cookie Banner