Website is undergoing upgrades. Some features are unavailable, however event registration still works.
PDF FLY
Produced by Visual Integrity
PDF FLY - The Professional's Choice
Convert PDF to vector and image formats with PDF FLY. It's a complete suite of vector and bitmap converters in one easy-to-use program. Transform PDF, PostScript, and EPS files into standard formats like DWG, SVG, WMF, EPS, PNG, JPEG, and TIF. Using it saves time, improves quality, and streamlines workflow. Transform drawings, diagrams, and illustrations, all with one comprehensive product. Perfect for technical writers and other graphics professionals.
All modules include intelligent filter options ensuring a perfect match with the original file. Compensation for format incompatibilities is one of many advanced features. Also, single file, batch, and watch-folder support ensure the best approach for your workflow.
Use PDF FLY on its own or as a companion for your PDF document converters.
PDF document converters do an excellent job on text streams, page layout, and fonts but always reduce graphics to bitmaps. If you want to transfer the graphics in your PDF files into high-quality, scalable vector graphics like SVG and EMF, you'll want to use a 2-step process that converts whatever graphics can be into vector formats.
Engineering, technical writing, and illustration departments count on PDF FLY for flawless conversions. For cross-industry customers, PDF FLY saves time and enables new PDF workflows. In short, If you need to convert PDF to vector and image formats, PDF FLY provides all the power you'll need.
Input Formats:
Vector Output Formats:
SVG
PDF
EPS
PostScript
DWG
DXF
HPGL
WMF
EMF
CGM
Raster Output Formats
Text Output
Extract text with placement
Text for index, search, and processing
Stripped text
ASCII preview
Full Unicode support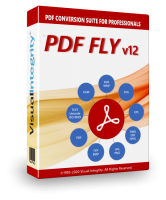 Product Type
---
Windows
End user
Utility
Features
---
Create
Modify page content
Print
Reuse
Convert from PDF
Convert to PDF
Extract
Object data
Product sectors
---
Archiving
Consumer
Content Management System (CMS)
Document Management System (DMS)
Engineering & 3D
Forms
Imaging and capture
Output
Packaging
Printing
Product Lifecycle Management (PLM)
Workflow management
AEC
Manufacturing
Publishing
WordPress Cookie Notice by Real Cookie Banner