Website is undergoing upgrades. Some features are unavailable, however event registration still works.
iCONVERT – AFP Transforms
Produced by Solimar Systems Inc.
Installed in thousands of sites worldwide, iCONVERT is a powerful transform engine for AFP environments that functions most commonly in routing mainframe and AS/400 print reports directly to hundreds of networked desktop printers. This suite of products can also route reports to production PostScript printers, viewing stations and archive systems.
iCONVERT is a unique print server technology that can run as a stand-alone system or be integrated with the Solimar® Print Director® Enterprise (SPDE). The system communicates with host systems and appears as IPDS devices or LUs. iCONVERT dynamically transforms AFP reports into a variety of other print languages and routes the resulting data to distributed network and production printers, archiving systems, and viewing stations.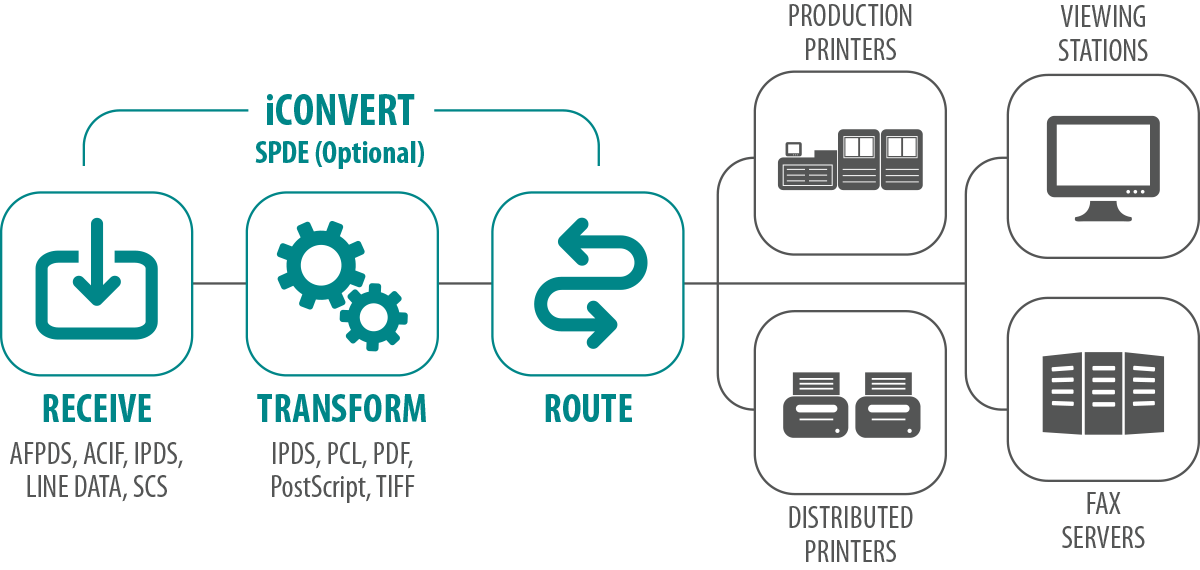 The iCONVERT suite provides support for IPDS transforms to PCL, PDF, PostScript, and TIFF data streams and print files. iCONVERT communicates with the AS/400 and mainframe host(s), appearing as IPDS printers receiving data via TCP/IP. The system operates as a Service under Windows® and can run as a stand-alone print server or in conjunction with the Solimar Print Director Enterprise (SPDE) for centralized print queue management. Conversion speeds can reach 6000+ pages per minute depending upon application complexity, network transfer speeds, and the Pentium print server specifications.
JOB EVENTS MODULE
The AFP transform suite also provides dynamic routing of documents with optional job separation and file naming capabilities. Parsing, page counting, and dynamic naming of documents is supported with the Job Events Module.
KEY FEATURES
Parses and names files based on information within the data
Deletes specified pages
Extracts information to name files for archiving and operator tracking
Enables load balancing across multiple devices
Provides operator job control information for report distribution
Can add Bookmarks and electronic overlays to PDF output
Additional technical details and feature descriptions are available on the Solimar Systems website.

Product Type
---
Windows
End user
Features
---
Convert to PDF
Product sectors
---
Output
Printing
WordPress Cookie Notice by Real Cookie Banner